FIRST LEVEL COURSES (B)
These are all required Core Courses.
- ATTENTION -
1. Be sure you complete all of the courses from FIRST LEVEL COURSES (A).
2. Make sure that your Administrative/Production Fee is up to date before taking courses for credit toward a degree. The link to that form is on the website HOME page.
---
Theology I. - Systematic Theology
This course will teach the basics of Theology in a Systematic manner. (3.5 credits)
---
In this course you will study the book of Hebrews. After a brief introduction addressing the historical arguments concerning date, authorship, to whom was it written, and canonicity, we will go on to a verse by verse examination of the book and its teachings and comparisons concerning the New Covenant under Christ and the Old Covenant under the Mosaic Law. (1.5 credits)
---
First John


COURSE NOT AVAILABLE YET
In this class we will examine the letter's origins, author, purpose, and a verse by verse study of its contents. Refutations of Gnostic teachings are keyed throughout the study. (1 credit)
---
Public Speaking


In this course you will learn the basics of oral communication. You will sharpen your skills by using the methods learned in this class while speaking before groups as well as exercising your one on one communication techniques. (1.5 credits)
---
Hermeneutics I. - II. - III.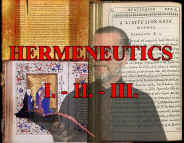 In this series of courses you will learn how to "rightly divide the word of truth." You will use several textbooks and the series will be in three parts. The Hermeneutics I. textbook is "Rightly Dividing the Word of Truth" by Dr. C.I. Scofield. The Hermeneutics II. textbook is "The Golden Key" by Ben M. Bogard. The Hermeneutics III. textbook is to be announced later.
Prerequisites: You must successfully complete the First Level course, "The Bible," before you are allowed to take the Hermeneutics courses for credit. Also, you must successfully complete the Hermeneutics I. section to be eligible to take the Hermeneutics II. section and you must successfully complete the Hermeneutics II. section to be eligible to take the Hermeneutics III. section. (various credits per section awarded individually, 6 credits total for all three sections)
---
A study of the battles behind life's battles; and biblical instruction in: (1) The only sure way to victory, (2) God's promise of that victory, and (3) His way to accomplish that victory. (2 credits)
---
In this course you will study how to give biblical counsel to those in need. Practical Bible counseling principles will be taught for use in addressing the most common problems for which people need counsel from the Scriptures. (3 credits)

---